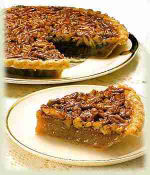 ∏ I hope every one enjoys Pi Day, today. Now I prefer to eat pie, than discuss the relevance of Pi. My favorite is pecan pie....I have used a wonderful recipe from Family Circle (9/1/98) called Carol Thomas's Pecan Pie....wow it is hard to believe I have been making that pie every year for the past 12 years, time sure flies. I usually make it at Christmas time, but maybe I need to make it on March 14th. I always made 2, one for work or whatever function I was attending, and then one for my boys....Of course none of my pies compare to Miss Faye's

Here is Carol Thomas's recipe:
1 ready to use--roll out pie crust (this is why my pie cannot compare to Miss Faye's)

1/2cup butterscotch chips

1 cup pecan pieces

1/2 stick unsalted butter, melted

1/2 cup sugar

1/2 cup white corn syrup

2 eggs

1. Heat oven to 350 (degrees)

2. Unfold pie crust into 9 inch pie pan. Scatter butterscotch chips and pecan pieces in pie shell.

3. Beat together butter, sugar, corn syrup and eggs in medium size bowl. Pour over nuts and butterscotch chips.

4. Bake at 350(degrees) for 45 to 50 minutes or until golden brown.

Now enjoy your day and enjoy your pie....so, what is your favorite pie???